Medical industry
Do you manage a medical facility or are you responsible for a network of medical facilities?
Do your tasks include observation, control, and quick decision-making. In order for management tasks to be performed efficiently and decisions made to be accurate, you must have access to verified, reliable and up-to-date information.
What are the most common problems in managing medical facilities?
How data warehouse solves the problem of several IT systems and the dispersion of facilities?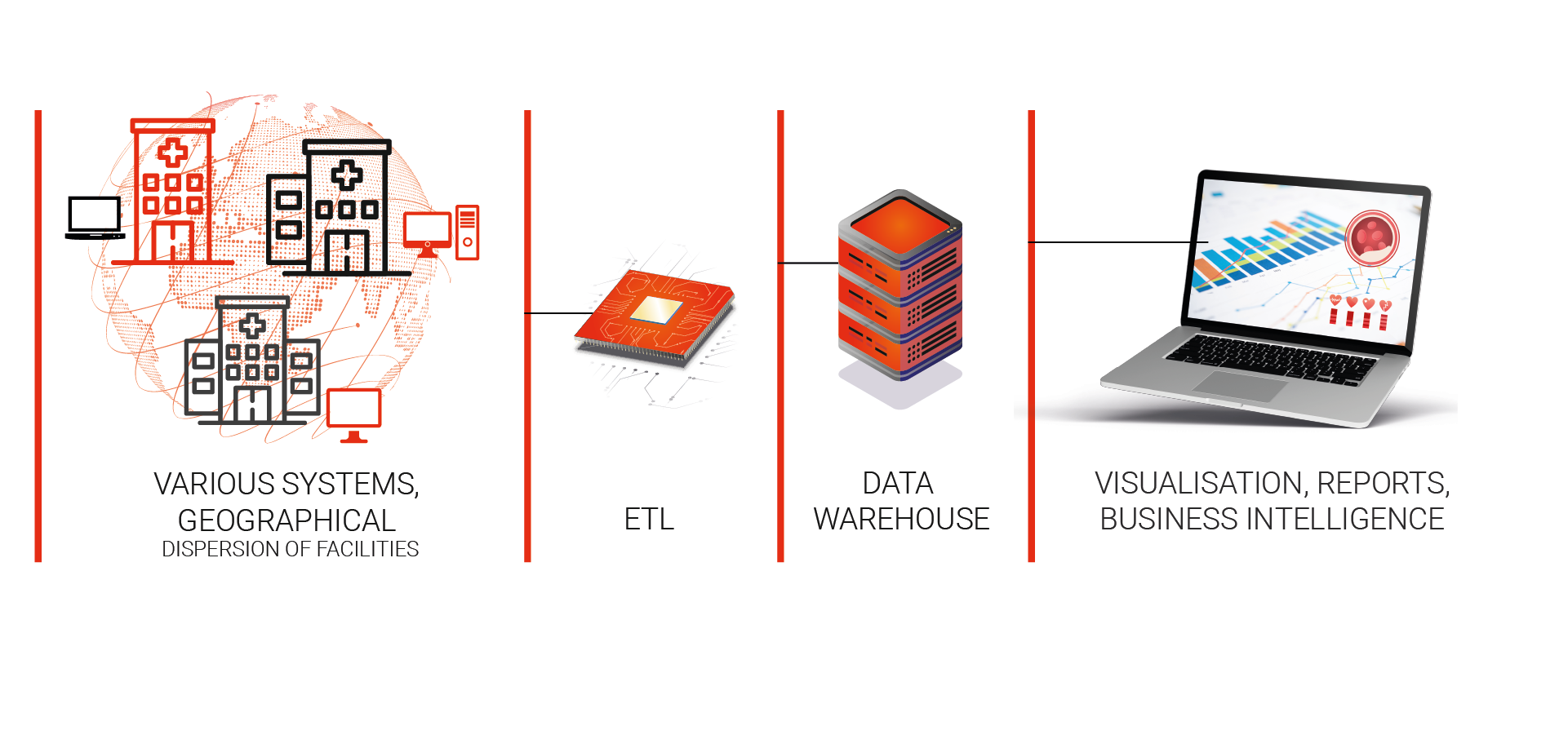 Offer
What analyses do you need to efficiently manage medical facilities?

The advantages of BI reporting based on data warehouse include the ability to combine data from various substantive areas, perform cross-sectional statements and the ability to relate data from current periods of time to archive data.
Patients
Profile of treated patients, division of patients into age groups submitting primary care declarations, number of children under 1 year of age, treated in a given facility/facilities.
Medical procedures ICD9
Statistics of procedures, profile of patients for whom procedures are performed, profitability of procedures.
Profitability of the clinic
Is the clinic profitable? If not - why? Which costs are the highest?
Clinic comparisons
Comparisons of clinics with the same profile of activity and comparison of the activities of the clinic over several years.
Medical staff
Comparison of costs generated by doctors during the treatment of comparable groups of patients and comparison of the number of ordered tests.
The developed analyses should be properly presented, highlighting cases that require immediate attention.

The information presented in the analysis can be visualized in various ways, depending on the needs: table, pivot table, chart, gauge, etc. It can be one or many forms. Each analysis can be exported to a spreadsheet for changes.

If, despite having ready-made reporting dashboards, the operator needs his own, original analysis, then he can build it, visualize it and save it on his own dashboard.
No specialist IT knowledge or programming skills are required to perform these activities.
Our offers
See our projects for the medical industry